About
Swasraya Training and Rehabilitation Centre is the brainchild of Reji Abraham, himself a paraplegic for life, was founded in 2000. He is the Administrative Manager of 'Swasraya', takes care of the day-to-day affairs of the Centre.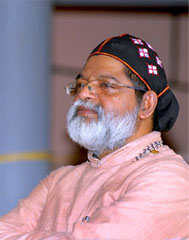 Swasraya Training and Rehabilitation Centre is managed by a registered trust headed by His Grace Dr. Thomas Mar Athanasius, Metropolitan of the Kandanad East Diocese of the Malankara Orthodox Syrian Church.
The Centre is located in a 1.5 acre scenic land at Vettickal near Mulanthuruthy, 20 km. from Kochi. The three-storied building of 'Swasraya' with a total space of 36,000 sq. ft. has12 furnished rooms for patients and their attendees, a spacious and modern physiotherapy department, prayer room, recreation hall, visitors' room, administrative offices, workshops, display room, library, kitchen, dining hall, dormitories, facilities to carry out occupational assignments and a sales department among others. The building design enables accessibility to wheelchair-bound trainees to all parts of the building. The Metannoia Gregorios Chapel which was in the site when Swasraya moved in, has been renovated with expanded facilities and a parsonage attached. Holy Mass is being celebrated at the chapel regularly.